JP0707 - JBP Big Brake Kit [Front Only]
Price:

[$1743.5 (US$1656.33)]
It's arrived! As usual, JBP goes all out with our front brake kit! We've blown away any of the current brake companies by making our brake kit for those who are serious about looks AND performance.

The JBP Big Brake Kit(BBK) encompasses the knowledge of tire size vs. braking. We've implemented top of the line components with our front brake system. The system comes with the following parts: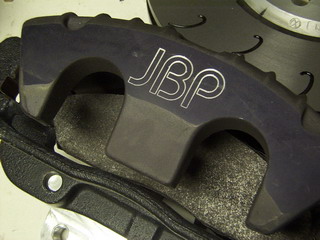 - Two Front Dual Piston Aluminum Calipers
- One Pair Carbon Fibre Brake Pads
- Two T6061 Billet Aluminum CNC Machined Caliper Bracket
- Two Huge 2-Piece 13.0" Rotors J-Hook Instilled and coated vanes
- Replacement Brake Line bolts w/Copper Washers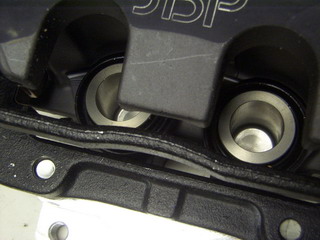 The stopping power is remarkable to say the least and is tame enough for the street. The system has been made to be fully ABS compatible.

Why a 2-Piece Rotor JBP?
Our two piece rotor design reduces the typical weight of a 13.0" rotor by 17%! Our two piece design dissipates more heat and has less heat retension than a regular rotor. No other kit has a 13.0" rotor nor two piece design.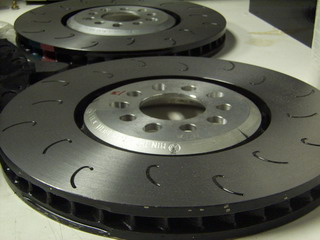 Whats a J-Hook ?
This is revolutionary, new since 2005 and not available from many companies. Our J-Hook is the latest design and is superior to both cross-drilled and traditional slotted rotors. The J-Hook design on the JBP BBK enables the brake pad to dig into the rotor to improve clamping force. An additional benefit is the fact that the pad face is cleaned in a more even fashion. The JBP BBK J-Hook also reduces resonant vibrations typically inherent with the traditional cross-drilled or slotted techniques.