JP0871 - JBP Str?ffes-Drehend Full Coil Over Assembly
Price:

[$2803.9 (US$2663.71)]
Ready For Purchase!!

Our experience in the world of suspension stems from our design of drag shocks and coil overs for the 2nd/3rd generation cavalier and Fiero.

Our brand new "Str?ffes-Drehend" line of performance coil-overs feature extensive engineering for mostly drag/solo racing, but can be used on the street for those that demand the best in suspension.

Our coilover kit is truly unique in the fact that it has been engineered from the ground up using JBPs test Cobalt SS/SC. Our choice of a spring dampener is a P-Type Mono-Tube, Multi-Dampening/Auto-Adjusting Bilstein Insert for the front and a Bilstein B055 for the rear. You can't get these from Bilstein, only JBP!

The rear coilover shock features A90 shore polyurethane bushings and custom eyelids for perfect mounting and fitment. For springs we've turned to a tuned Bilstein 8x2.5 coil on the front and rear for ride control and oscillation. For the strut/shock body in the front we've design and engineered an all aluminum 6061 ultra lite composite alloy and anodized the body for longevity and visual appeal. The threaded shock-body (not an imitation sleeve) allows for up to 4" inches of chassis adjustment. For spring positioning in the front we've taken the renouned 'Ground Control' gold anodized 6061 aluminum self-locking adjuster nut: this provides a locking allen key body for safety and ease of adjustments. For the rear, we've used the Bilstein "jamb-nut" design, where one adjuster nut acts as a spring perch and the nut below as a jamb-nut to prevent the spring perch from backing off. Our rear shock is the only one that will not distort the rear-torsion beam trailing axle using spring dynamics and heat dissipation.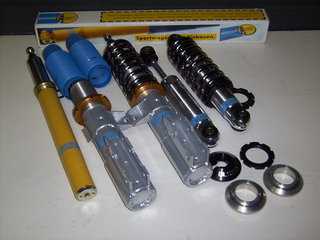 Click Image

Our prelimenary testing shows a huge increase in progressive ride cornering ability, WITHOUT the harsh ride.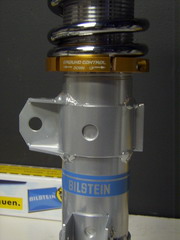 Click Image

The looks alone are show stopping (with polished shock body in the rear and anodized clear aluminum-alloy in the front), but the key is our handling design in combination with JBP Engineering, Bilstein shock technology, Ground Control spring lock nuts, you just won't find a better coil over system.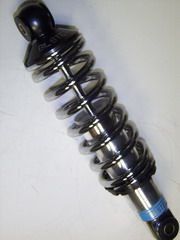 Click Image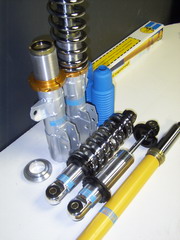 Click Image

The JBP Str?ffes-Drehend Full Coil Over Assembly has been engineered as a bolt-on kit for the Delta platform without drilling. A 30 second optional modification may be performed to the rear of the vehicle.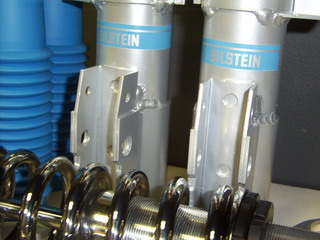 Click Image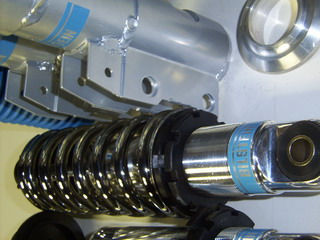 Click Image

Solo1/Oval or Slalom racers enquire about our stock ride height cusp mechanism and aluminum shock body

Fits Redline, G5, Cobalt & HHR