JP0879 - Rear Force 10 1-Piston Aluminum Caliper Disc Brake Kit [SS Only]
Price:

[$1374.989 (US$1306.24)]
Rear disc brake kit to convert O.E. 10.6" x .55 " non-vented rotor to 12" x 1.000" directionally vented rotor. Includes Force 10 Sport R1 aluminum caliper. For 5 lug vehicles only.

Single Piston Caliper (54mm), Directional curved venting, 1.0" thickness, Slotted and Cadnium Plated, Includes all hardware, bolts to stock spindles, Calipers come with clear anodized finish or polishing/powder coating available.

-Includes Force 10 Sport R1 Single-Piston aluminum calipers.

-Includes high performance pads.

-Includes Turbo slotted rotors with Xtra Life plating.

-Will fit Cobalt SS (5 lug) only - will not fit regular Cobalt (4 lug).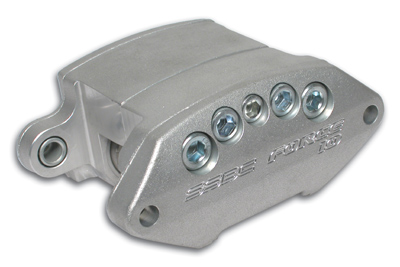 Standard Caliper Finish Shown above.