JP0909 - JBP Polyurethane Passenger Engine Mount [COBALT/REDLINE]
Price:

[$288.2 (US$273.79)]
Have a friend rev the engine up in your Cobalt SS/SC. See the engine move? That was with no load! Imagine what's going on in there with some serious shifting going on. JBP introduces its continuing line of polyurethane products with the replacement mount for your Cobalt SS/SC. Made out of a strong shore of polyurethane, these mounts are made for the abuse. Now you dont have to worry about torque struts or inserts or threaded rods!! Just bolt the replacement mount to your vehicle and off you go. There is a small vibration increase in the passenger cab. Most customer purchase this product with that in mind.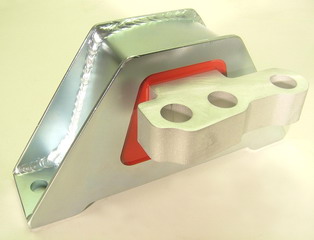 Our mount is the only one with our signature bright red polyurethane and CNC water-cut, custom manufactured casing. Casing now comes with a mirror-chrome finish at no extra charge!

Below you will find our chart of preliminary load testing. We exhaustively tested our prototype with results that show that the JBP Polyurethane Engine mount is stable for over 420nM of torque.

Testing Results:
Torque (newton meters) - Rotation (Radians)
020nM - 0.00RAD
025nM - 0.02RAD
040nM - 0.10RAD
060nM - 0.12RAD
080nM - 0.14RAD
100nM - 0.18RAD
130nM - 0.20RAD
160nM - 0.32RAD
180nM - 0.46RAD

Check out our other line of polyurethane products for the Cobalt/Redline